At Vixen Nails•Salon•Spa we only use industry leading products so our customers get the best results.  Therefore if you are not using Olaplex you are not using the best.  An Olaplex treatment can be done at our salon and after your treatment you can take home Olaplex Hair Perfector N03 for home maintenance.
Why Olaplex?
Olaplex doesn't coat the hair, it doesn't leave any product behind, it's not a temporary filler, it's impossible to overuse, and impossible for it to not work. It is the only product on the market that can actually cross link bonds. All the other copycats and products that claim to "build bonds" or "reconstruct" or "repair", don't. They just coat the hair, mask damage, make you think hair is healthier than it actually is.
The Comparisons
The image below shows the comparisons taken by hair professionals. They took 4 locks of a same ponytail, bleached them using Blondor and then applied the treatments following each manufacturer's instructions precisely. The results after four shampoos is that the other products were not holding up, compared to Olaplex.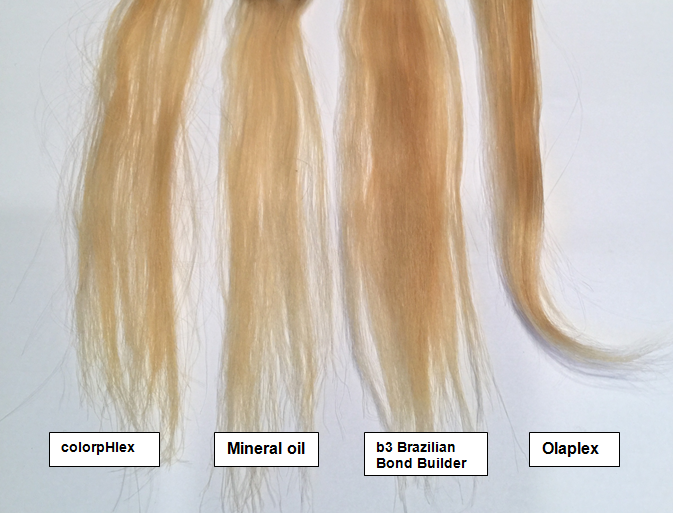 Most products do have beneficial ingredients for moisture and protein, but none that are capable of changing the structure of the hair or repairing it. Olaplex is the only product capable of cross linking disulfide bonds and rebuilds them to eliminate breakage from chemical services.